Manchester City boss Pep Guardiola said the fans banned by the club for "vile chanting" following the death of Sir Bobby Charlton "don't represent us".
Manchester United legend Charlton died on Saturday, with the news announced at half-time of City's game with Brighton.
City have banned two minors from home and away games over the chanting.
"They don't represent us – Mike Summerbee going to Old Trafford to sign the [condolences] book on behalf of us is what represents us," said Guardiola.
"Alcohol makes bad things in people."
Guardiola paid his respects to England's 1966 World Cup winner Charlton, who died aged 86, by signing the same book of condolences on Friday.
"[We have] huge respect for Man United – we prove it losing and winning – and especially for Sir Bobby," added the former Spain international.
"We will be part of the condolences to Manchester United and English football."
Casemiro faces fitness test – Manchester derby team news and key stats
Ahead of the 191st Manchester derby, which takes place at Old Trafford on Sunday, Guardiola says he expects United to be a "tough opponent" despite their indifferent start to the season.
Erik ten Hag's side have lost four of their nine Premier League games this season, leaving them in eighth position, six points behind second-placed City.
"Whatever manager they have had, it's always been a tough, tough opponent," Guardiola said.
"Of course, the FA Cup final was special because they wanted to win and [prevent] us winning the Treble."
'We have to catch up with City'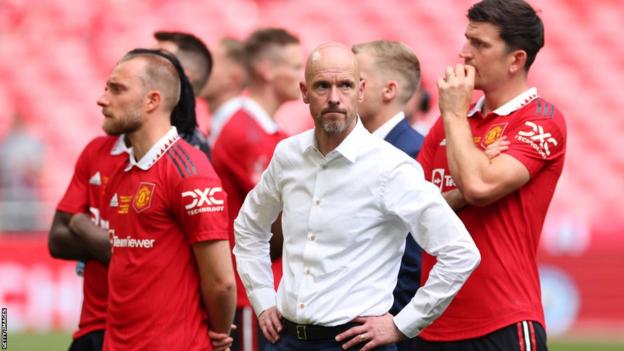 In the last encounter between the clubs, Guardiola's side beat United 2-1 in June's FA Cup final on their way to completing the Treble.
City became just the second English team – after Sir Alex Ferguson's 1998-99 United side – to achieve the feat.
"I think it's a match above many other derbies," Ten Hag said.
"It's so huge because it's Manchester internal, but I think it's also about world football and all the eyes will be on this game globally.
"In this moment they're six points ahead, we're six points back, so we have to catch up.
"We know we have to progress the team, so we have to make developments."
City have won four of the last five meetings with their rivals, but United staged a late comeback to win their last Premier League fixture 2-1 in January.
Meanwhile, Ten Hag says he is not worried "in this moment" about the possibility of United forward Alejandro Garnacho being banned for a social media post following the Red Devils' 1-0 win over FC Copenhagen in the Champions League on Tuesday.
The 19-year-old Argentinian winger posted a photo of United players celebrating a late penalty save by Cameroonian goalkeeper Andre Onana accompanied with gorilla emojis.
Onana defended Garnacho in a social media post of his own on Thursday and said he believes "the matter should go no further".
"We are talking with the FA." Ten Hag said.
"I want to emphasise we are together, we are united – you saw that with the post of Andre."